● Al Wataniya Concrete Opened HIA plant and started productions.
● Al Wataniya Concrete awarded HIA expansion Project.
● Al Wataniya Concrete got excellent contribution award from samsung C&T.
Al wataniya concrete got an excellent contribution award from samasung C&T for the outstanding contribution and commitment for the quality team work and safety for the successfull completion of samsung C&T Project.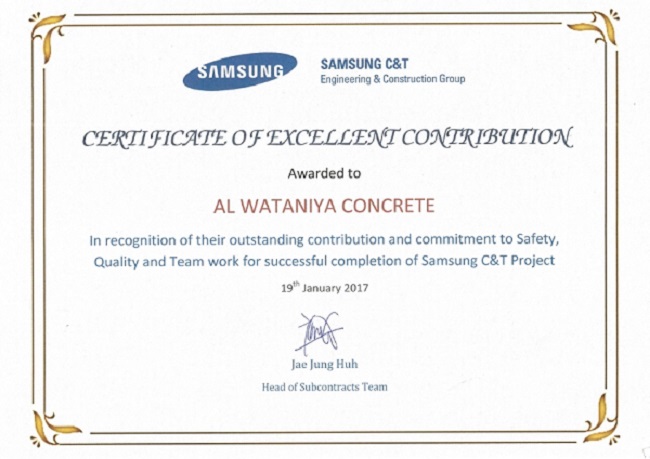 ● Al Wataniya Concrete Opened Umm Al Houl plant and started productions. ● Al Wataniya Concrete awarded Umm Al Houl power plant project. ● Al wataniya concrete opened a new plant for Qrail Project with total production capacity of 120 m³/ hour at Ras Abu Abound area . ● Al Wataniya awarded Doha metro main station packages project with Samsung OHLQBC (Qrail ) ● Al Wataniya had 3 on-site batching plant with total production capacity of 340 m3 hour at Al Matar area for Qrail packages . ● Al Wataniya Concrete awarded the conformity certificates for Lusail plants , Mesaieed plants. ● Al Wataniya Concrete succeeded to achieve National ready mix concrete association (NRMCA) accreditation for Lusail & Industrial area batching plants.
As one of the chapters recorded in Al Wataniya Concrete agenda, the company had broke all records by casting the deepest high spec tower raft in Doha Financial District Project, the raft was planned under intensive meetings and planning between the main contractor Bouygues Batiment International & Al Wataniya Concrete, were all the particulars of the project were discussed and agreed in order to guarantee a 100% continuous supply and error free casting, the meetings covered all the aspects in terms of health and safety, technical specifications, logistics, on site maintenance... etc The Raft consumed 12000 cubic meters of concrete were casted in 38 hours continuous using 85 Concrete Mixers, 8 Pumps in addition to 4 pumps for emergency. The company supplied concrete mainly form its Lusail plant backed by Industrial Area and Mesaieed Plants, were it stored 20,000 tons of Gabbro, 25,000 Tons of Washsand, 6 thousand tons of cementious materials and about one million liters of lubricant materials and 3 million liters of ice and water as a reserve for this project. This record is not the first for Al Wataniya concrete where in November 2007 Al Wataniya Concrete was able to cast 15000 in 3 days in the biggest raft in Qatar at Burj Dubai (Qatar) contractor Al Jaber Al Habtoor (JV)
Al Wataniya Concrete is a Model for Concrete Production Companies
A Delegation from the Kuwaiti Ashghal Authority have visited Qatar on 7 June 2009, to analyze the progress of Qatari Concrete Industry; and due to the efficiency level that Al Wataniya Concrete Company represents in the state of Qatar, the company was selected to be a model for the Kuwaiti delegate representing the progress that this industry has reached to in the country. the delegation paid a visit to Al Wataniya Concrete Mesaieed branch, were they met with the company's operations team. the delegation then where briefed by Eng. Saeed Joudeh -Technical Manager- about the company's establishment and progress, then reviewed the stringent Quality measures which are taken to ensure a high quality concrete and the training courses in which the company's employees benefit from in its various departments. during the presentation, Engineer Saeed explained the difference between the mixing methods and the effect of each type on the concrete. The delegate then toured the plant and witnessed a practical mixing operation.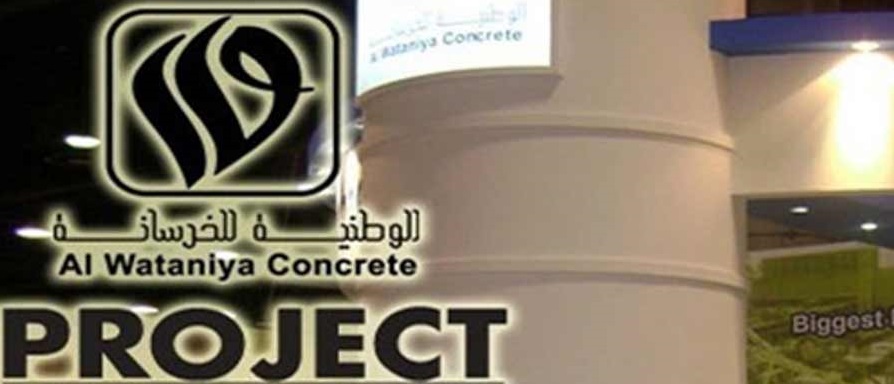 Al Wataniya Concrete Uncover New Expansion Plans Through Project Qatar Exhibition



Project Qatar Exhibition in which took place at Qatar International Exhibition Center was the biggest construction related exhibition ever been done in the country, and have witnessed an extraordinary participation from countries around the world. Through the exhibition Al Wataniya Concrete was able to astonish its visitors with the accomplishments that it had achieved since established in 2005, in addition to taking the opportunity to uncover its plants of expansion in Dukhan area. Al Wataniya Concrete Dukhan Plant Location is one of the cities that were included in Qatar's phenomenal development plan, where the city it is expected to become one of Qatar's most important cities, considering that it will become the hub connecting Qatar to Bahrain through a causeway built across the sea between the two countries.